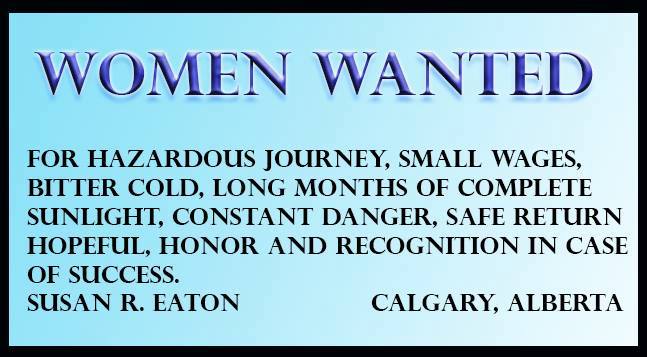 "Let us step into the night and pursue that flighty temptress, adventure." ~ J.K. Rowling
Huffington Post Canada has just featured a story on the "Women Wanted" advertisement that Canadian explorer Susan R. Eaton recently designed to recruit sea women for an epic, 3,000-kilometre "all woman" extreme snorkel relay of the Northwest Passage during the summers of 2017 and 2018.
Susan commented, "My advertisement shamelessly 'mirrors' the advertisement that Antarctic explorer Sir Ernest Shackleton allegedly ran, in a British newspaper, one hundred years ago."
Here is the link for the Huffington Post piece which provides greater background on the Sedna Epic Expedition and its exploration objectives. (here)
Susan R. Eaton, Sedna's visionary expedition leader, is also a renowned geologist, geophysicist, journalist, polar snorkeler and conservationist based in Calgary, Alberta, Canada. She was also recently named "one of Canada's top 100 modern-day explorers by Canadian Geographic Magazine."
For more information about the Sedna Epic Expedition and for ways you can help support this exploratory endeavour, the link is (here).